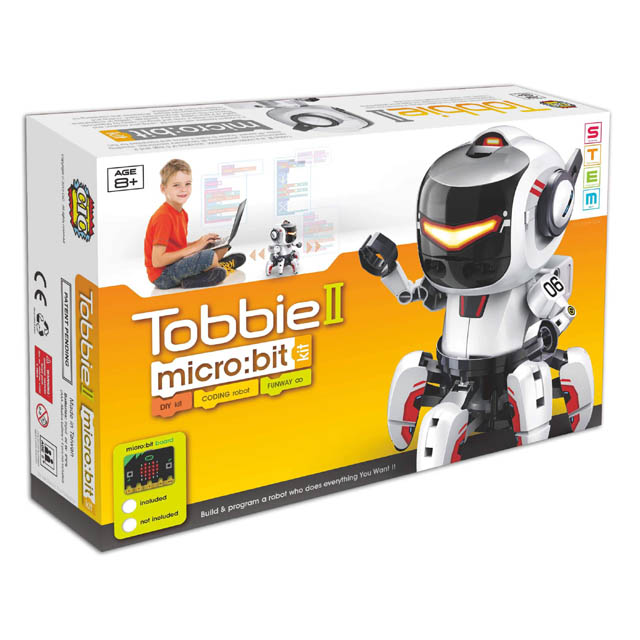 Image is for illustrative purposes only. Please refer to product description.
About: Tobbie II coming back with a bang! Now its comes with new hardware, Micro: bit Kit. Tobbie now not only can follow but also can teach young children how to code. Equipped with 5x5 programmable LEDs, switches, temperature sensors, and more! Tobbie is a small toy packed with large potential, and your child is here to realize it.
Coding with Micro:bit: Micro:bit is a well-supported ecosystem as a tool to introduce children to coding by BBC, UK. Programming with Micro:bit means your child will be taught with a clear and concise lesson plan, various platforms to code on and a warming community that will answer any questions.
Mobile App Supported: You can programming Tobbie II so it can follow your command from your Smartphone. Currently, Tobbie II can only communicate with Android Devices, but soon it will talk to iOS devices as well!
Limitless possibilities with Tobbie II: With an accessible coding platform, your child can run many fun games with Tobbies II, such as Rock, Paper, Scissor, Bowling Game or Guess the Number. More than just a teaching how-to-code device, Tobbie II equipped with heat sensors and compass module that allow your child to use Tobbie as temperature detection or compass. This adds up and brings more fun than ever to any future programmer!

---
Part No

CIC21-894MB

Manufacturer

Stock No

1112-CL2

SKU No

252529
To purchase bulk quantities, Please contact our Sales Department
(+1-416-494-8999) or email shop@sayal.com
Featured

Items

you may like
SPECIALLY PICKED FOR YOU