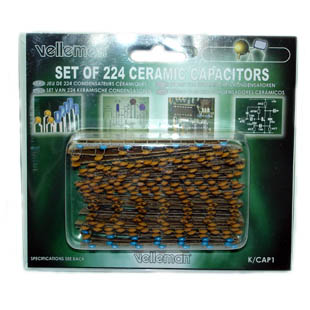 Image is for illustrative purposes only. Please refer to product description.
CAP CER ASSORETD 224PCS 14 VALUES - 224 PCS/PKG
Availability:
21 in stock
Stock and Aisle Location
#
Store
Qty
Aisle
Burlington
2
Cambridge
4
Markham
2
Mississauga
3
Scarborough
1
Vaughan
2
Warehouse
7
---

Ceramic Disc Capacitor Assortment

Contains 224 pieces with 14 different values from 10pF to 220nF all radial leads.
21 pieces of each value: 10pF, 100pF, 1nF, 10nF, 100nF

14 pieces of each value: 22pF, 47pF, 220pF, 470pF, 2.2nF, 4.7nF, 22nF, 47nF

7 pieces of each value: 220nF
pF = picoFarad
nF = nanoFarad
uF = microFarad
Colors and styles may vary.
---
Part No

K/CAP1

Manufacturer

Velleman

Stock No

CMB-ASSORTED-224

SKU No

220614
To purchase bulk quantities, Please contact our Sales Department
(+1-416-494-8999) or email shop@sayal.com
Featured

Items

you may like
SPECIALLY PICKED FOR YOU