KARAOKE - SING ALONG PRE-AMP
Part No: MK140
Manufacturer: Velleman
Stock No: 2041-FE1
SKU No: 179677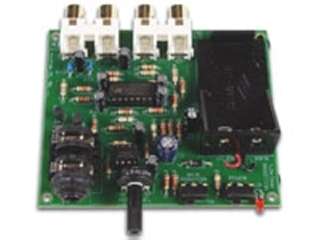 Image is for illustrative purposes only. Please refer to product description.
Stock may not be available at all store locations. Inventory quantites can change without notice.
Sing along with your favorite music. Hook-up the unit between your CD-player, MP3-player or any other line-level source and your amplifier. RCA (cinch) input and output sockets. With 1/4" microphone jack, fits most microphones. Adjustable microphone level. "Vocal reduction" switch reduces original vocals on most stereo recordings. on/off switch and LED power indicator
---
Power supply: 9V battery (not incl.) Low power consumption: 16mA typ. Dimensions: 3.9" x 3.3" x 1.0".