DIGITAL PANEL METER
Part No: K2032
Manufacturer: Velleman
Stock No: 2585-AE1
SKU No:204571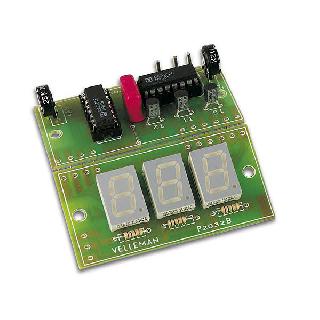 Image is for illustrative purposes only. Please refer to product description.
This panel meter is an almost ideal replacement for the traditional moving-coil type instrument. Its accuracy is many times better. The high precision and stability offered by this meter are illustrated in the technical specifications. As it is very compact, this unit can be built into all kinds of housings or even into existing equipment.
---
Supply voltage: 5V DC / 250mA Display: +999mV and -99mV full-scale Overload indication: positive and negative Resolution: 1mV Input impedance: 100Mohm PCB dimensions: 1.3" x 2.6"
RELATED PRODUCTS
5 Product(s) found