DELUXE EXPLORATION 33-IN-1
Part No: C6709
Manufacturer:
Stock No: 2011-EJ1
SKU No: 204807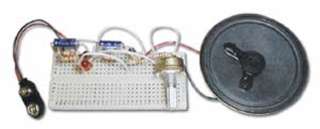 Image is for illustrative purposes only. Please refer to product description.
Stock may not be available at all store locations. Inventory quantites can change without notice.
| | | |
| --- | --- | --- |
| | Burlington | 1 |
| | Cambridge | 1 |
| | Markham | 2 |
This exciting breadboard kit requires no soldering or previous electronic experience. The kit enables anyone to build 33 different electronic experiments and activities. It's applicable for use in elementary grades up through college and is safe to use . The kit is meant to be used over and over again to save money. Not only is this kit complete with everything you need, but also the instruction booklet is designed so that even younger hobbyists or students can understand the concepts.
---
The experimenter builds and studies the first 11 instructional circuits which include theory and data facts along with a simple pencil activity quiz. The remaining 22 experiments for the experimenter are fun to build electronic circuits that have a parts list, schematic and parts placement. These give an ample introduction to electronic components and circuitry. Breadboard type kits have been around for years, however, ours is the first to incorporate an introduction to Ohm's Law, electromagnet circuitry, motor circuitry, transistor circuitry, IC circuitry, and 7 segment display circuitry all in ONE kit! There is now no need to have several different breadboard kits. One kit covers almost all aspects of basic electronic concepts and components. Not on does our 33 in 1 Deluxe Electronic Exploration Kit introduce various electronic educational concepts but it is also a fun and interesting motivational activity for anyone. Complete with all electronic parts, breadboard and instruction booklet. Requires one 9V battery (available separately).