SCREAMING TURKEY
Part No: C6784
Manufacturer:
Stock No: 2035-QA2
SKU No:204835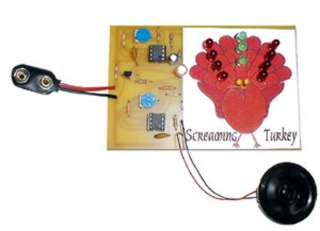 Image is for illustrative purposes only. Please refer to product description.
Colorful kit makes a great addition to any Thanksgiving celebration. Perfect for an unusual centerpiece or home decoration. Not only does the Screaming Turkey Kit produce a screaming turkey sound, but also the colorful red, green, and yellow LEDs light up and flash. The 2 IC circuit features 2 separate controls to adjust the sound and flashing speed and uses a full color "Turkey label" that is glued to the PC board before you install the components. Size of PC board: 5" x 3". Complete with all parts, PC board, label and instructions. Skill Level 2.
---
Operates from one 9V battery (not included).