MONKEY SURPRISE - SOUND EFFECT
Part No: C6877
Manufacturer:
Stock No: 2035-QA3
SKU No:204837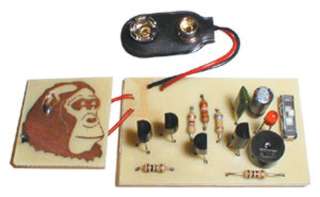 Image is for illustrative purposes only. Please refer to product description.
Here's just the thing to surprise your favorite person! This fun kit can be hidden anywhere and although it is silent at first, it provides an irritating surprise later. Simply place a drop of water on the monkey's face, turn the arming switch to "on" and hide the Monkey Surprise Kit in the room. The kit will remain silent until the water on the Monkey's face evaporates. When it does, the kit will go crazy, emitting a sound that is a mix between crazed jungle bird and an irritated monkey. By the time it goes off you can disappear (unless you want to hear what your victim is saying about the disturbing racket). Size of main PC board is 2" x 1.25", size of Monkey face is 1" square. Complete with all parts, PC board and instructions. Skill Level 1.
---
Operates on one 9V battery (not included).