COUNTER DISPLAY SAME AS EBCD-7
Part No: EBDC-7
Manufacturer:
Stock No: 2051-LD1
SKU No: 204859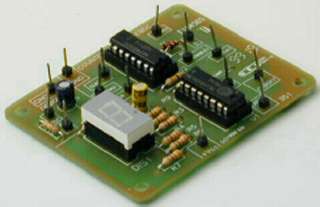 Image is for illustrative purposes only. Please refer to product description.
Stock may not be available at all store locations. Inventory quantites can change without notice.
How do you count and display pulses? The EBCD-7 shows how a digital display operates in digital clocks, frequency counters, tachometers, or general-purpose counters. Learn the secrets of 7-segment LED displays! Based on the CD4518 Dual BCD Up counter (for use in many different counting and frequency-dividing applications) and the Motorola MC14543 BCD-to-Seven Segment Latch / Decoder / Driver for LCD & LED displays. Possible applications include instrument counters, digital voltmeters, calculator cockpit display, and various clock, cockpit display and various clock, stopwatch, and timer uses. It's limited only by your imagination.
---
Power requirement 5vDC. Size 2.25" x 2.75"
Limited Stock Available To purchase, Please contact our Sales Department
(+1-416-494-8999) or email shop@sayal.com