HOME/CAR ALARM
Part No: 80-101
Manufacturer: PHILMORE
Stock No: 2045-HB1
SKU No: 204895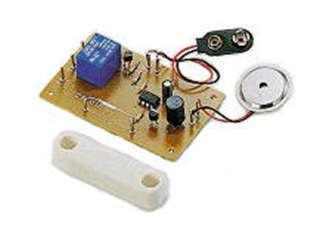 Image is for illustrative purposes only. Please refer to product description.
Stock may not be available at all store locations. Inventory quantites can change without notice.
This circuit is an alarm for the home or car door, and a lot more. It employs a magnet and reed switch to trigger the circuit; when the magnet is moved away from the reed switch, the alarm is triggered. An integral piezo sounder produces the alarm sound (100dB). And a PLUS, a relay capable of handling up to 10 amps AC is included and may be connected to turn on or off an appliance, light or external alarm sounder etc. Therefore the circuit could be used to turn on a light whenever a basement or garage door is opened.
---
Limited Stock Available To purchase, Please contact our Sales Department
(+1-416-494-8999) or email shop@sayal.com