TONE ENCODER/DECODER (DTMF)
Part No: TD1
Manufacturer: Ramsey Electronics
Stock No: 2075-GF1
SKU No:204954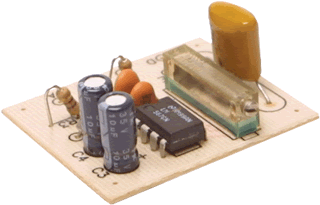 Image is for illustrative purposes only. Please refer to product description.
Encodes and Decodes Tunable from 40Hz to 5000Hz Extendable down to 10Hz Drives any load up to 100 mA All your tone control needs on a single PC board. Kit will simultaneously decode and/or encode any frequency from 400 to 5000 Hz, (add a small capacitor to go down as low as 10 Hz) Great for PL tones, remote controls, tone burst FSK, anywhere tones are involved. Frequency is easily set with the precision 20 turn trimpot, and the circuit uses a voltage regulator and Mylar cap for the ultimate in stability.
---
Runs on 5 to 12 VDC , will drive up to100 mA load. Size: 1 1/4" x 1//2" x 1 1/2".
RELATED PRODUCTS
1 Product(s) found