DRONE REMOTE CONTROLLED LITEHAWK QUATTRO SNAP
Part No: 285-31409
Manufacturer: LITEHAWK INC.
Stock No: 2343-JJ1
SKU No:241370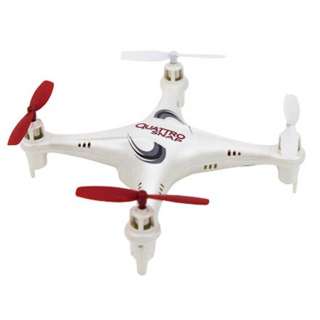 Image is for illustrative purposes only. Please refer to product description.
SNAP an image, SNAP some video and have fun doing it too! newest quad comes fully featured with adjustable flight modes, fully digital stabilization and 2.4 Ghz control! The unique clam-shell design protects internal electronics and motors! SNAP also comes with removable rotor guards and "high lift" landing gear, shown above. This protects SNAP when you are flying in tight spaces or when you are just learning.
Factory Assembled & Ready for Adventure
Digital 3 axis stabilization
The 2.4Ghz radio lets you fly without the fear of losing signal. Not to mention there are no set channels, so you can fly multiple at the same time.
Capture in flight video and photos
Micro SD card and USB reader included
fps Broadcast Standard
bit Audio with Uncompressed .avi format
Sized right for both indoor and outdoor excursions
Advanced "Low Battery" warning system protects your on board Li-Po battery
Advanced LED system for night flying
Learning System with removable rotor guards and "high lift" landing gear included
---
RELATED PRODUCTS
3 Product(s) found