DIGITAL STEREO AMPLIFIER MICRO SIZE BOARD
Part No: VMA408
Manufacturer: Velleman
Stock No: 1815-ZB1
SKU No:248132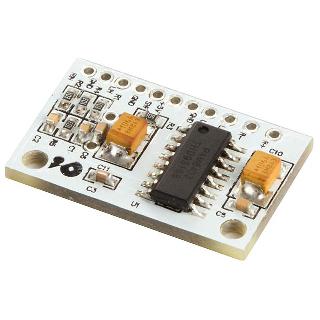 Image is for illustrative purposes only. Please refer to product description.
Dual channel stereo output 3 W + 3 W power Class D amplifier.

High amplification efficiency 85% can directly drive 4 to 8 Ohm small speakers with good sound quality & noise suppression. Unique without LC filter class D digital power board. Can use computer USB power supply directly. Protection mode is current-limiting with thermal shutdown.
---
Operating Voltage: 2.5 to 5 VDC
Connections: Solder connections
Sound processor: PAM8403
Dimensions: 0.9" x 0.63" x 0.08" (23 x 16 x 2 mm)