MULTIMETER DIGITAL CLAMP HVAC/ AMP/RMS VOLTAGE/TEMP/DIODE/RES
Part No: TES 3079K
Manufacturer: TES
Stock No: MJY-3079
SKU No:174222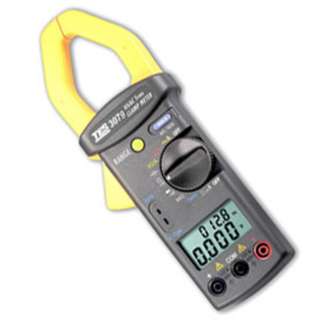 Image is for illustrative purposes only. Please refer to product description.
DIGITAL CLAMP MULTIMETER
Check current draw in motors and compressors.
Use MAX/MIN/Recording in the temperature mode to assess efficiency.
Test run/start capacitors.
Confirm low voltage control signals.
Measure flame safeguard device current draw.
Confirm power sources.
Analyze temperature and power data with the aid of the time stamp.
SPECIFICATIONS:

AC Current 0 to 99.99 A (50/60Hz) 0 to 999.9 A (40-400Hz)
DC Current 0 to 999.9 A
AC/DC Voltage 999.9 mV to 600 V (40-400Hz)
Resistance and Continuity 0 to 99.99M Ohms
Capacitance: 1nF to 7000 uF @ 600V
Temperature (K-Type) -50C to 900C
TRUE and Apparent Power (PF > 0.7 or ? < 45) 60.00kW (<100A)
Phase Angle: (50Hz, 60Hz) -45 ~ 0 ~ +45
Frequency: 40Hz to 1kHz
General specifications:

Applicable standards IEC 1010-2-032, EN 61010-1
Pollution Degree 2 Jaw opening 40mm maximum
Display 3 digit LCD with 40 segment bar graph
Maximum reading 3999
Continuity = 40O on 999.9O Range
Operating temperature 0C to 50C
Dimensions 228(L) x 76(W) x 39(H)mm, (9" x 3" x 1.5")
Weight 465g (batteries included) 1 lb
Accessories included: User's Manual, 9V Battery, Test Leads, 1 pair of Alligator Clips, Carrying Case
---
RELATED PRODUCTS
11 Product(s) found