LIGHT EFFECT GENERATOR-10CH 12V CAN CONTROL LIGHT BULBS LED SSR
Part No: K8044
Manufacturer: Velleman
Stock No: 2031-JE2
SKU No:201008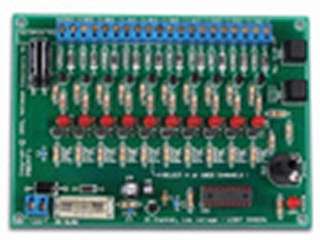 Image is for illustrative purposes only. Please refer to product description.
This kit has 10, 12V/400mA outputs to control cold-cathode fluorescent lamps, light bulbs, LED's and "solid state" relays, ... For use as advertisement lighting, party lights, discos, eye-catcher, ... 10 pre-programmed selectable light patterns with a push button Number of used channels is adjustable Adjustable speed LED indication for every output 12V operation possible for use in cars The last used lighting effect is saved in non-volatile memory
---
Power supply: 12V DC Consumption: max. 4A Outputs: 12V DC / 400mA per channel (total : max 4A) Dimensions: 5.5" x 3.9" x 1.1"