POWER AMP 50W STEREO HYBRID
Part No: CK260
Manufacturer: CANAKIT
Stock No: 2015-EF2
SKU No: 204270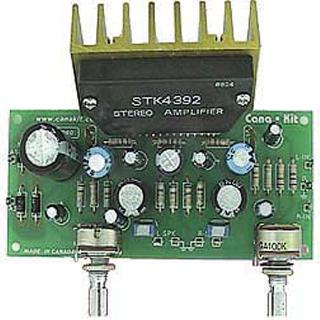 Image is for illustrative purposes only. Please refer to product description.
Stock may not be available at all store locations. Inventory quantites can change without notice.
This complete high quality, low noise stereo audio power amplifier is based around the Hybrid Integrated Circuit STK4392 manufactured by Sanyo. The circuit incorporates volume and balance controls and has a maximum music output power of 35W per channel (25W per channel RMS). The circuit incorporates an on board power supply; therefore, only an appropriate transformer is required to power the circuit.
---
Supply voltage: 24 to 32V AC Transformer / 2A (JRC-5632-1) Input sensitivity: 300mV Output power using 32V AC: Music power – 2 x 35W / 4 Ohm RMS power – 2 x 25W / 4 Ohm Includes volume and balance controls Maximum distortion: < 0.2% Frequency response: 30Hz to 30KHz PC board dimensions: 4.51" x 2.01"