4 CHANNEL RECORDER/LOGGER USB WITH SOFTWARE
Part No: K8047
Manufacturer: Velleman
Stock No: 2091-FG2
SKU No: 204605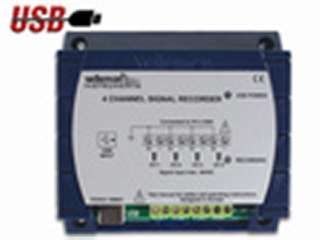 Image is for illustrative purposes only. Please refer to product description.
Stock may not be available at all store locations. Inventory quantites can change without notice.
Record DC signals or slow moving signals over very long period. The measurements are automatically stored on your hard disk for further processing. Through the use of USB connection, there is no need for a power supply and installation is easy and straight forward. Signals are instantly displayed on the PC screen using analog or DVM display. USB cable included. PC-LAB2000 Software included. Comes with enclosure.
---
Hardware: USB connected and powered. Four DC coupled input channels. Input resistance: 1M ohm. Maximum samples per second: 100. Four input ranges: 3V / 6V / 15V and 30V. Sensitivity: 10mV. Accuracy: ± 3% of full scale. Maximum input: 30V DC. Power and recording/diagnostic LED. Software: Analogue trace or digital DVM readout. 4 simultaneous channels recording. minimum / maximum sample hold function for DVM. from 1 sec to 1000 sec per division. storage and recall of screens (full color) or data. automatic recording option for long time recordings. on screen markers for time and voltage. DLL included for own development. System requirements: PC, running Win98SE or higher (does not work on WinNT or Win95). Free USB port. Mouse. CD-rom player.
Limited Stock Available To purchase, Please contact our Sales Department
(+1-416-494-8999) or email shop@sayal.com