LEARN TO SOLDER DELUXE SMD KIT
Part No: C6719
Manufacturer: CHANEY ELECTRONICS INC USA.
Stock No: 2011-JB1
SKU No:204811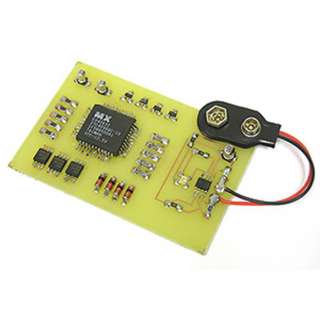 Image is for illustrative purposes only. Please refer to product description.
Here's the perfect way to gain experience in soldering, identification and use of Surface Mount Device (SMD) technology. This kit features 32 SMD components, including 3 SMD 8 pin ICs, microprocessor IC, capacitors, resistors, transistors and a LED. The first 24 components are parts used to gain ample soldering experience with SMD parts as you solder the various parts onto the practice section of the PC board. The last 8 SMD components are used to make an IC type dual LED flasher. This section of the kit flashes a dual color SMD LED. It flashes red then green from the same LED. Not only do you learn to solder SMD parts but in the end you have an attractive and functional SMD dual color LED flasher to show for your effort.
---
Operates on one 9V battery (not included). Size of PC board: 2'' x 3''. Complete with all parts, PC board and instructions. Skill Level 2.