HEART THROB
Part No: C6410
Manufacturer:
Stock No: 2098-DB1
SKU No: 204821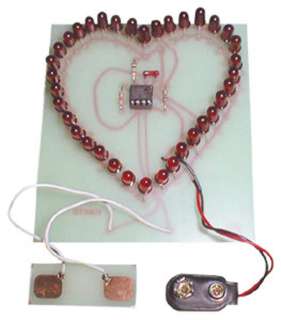 Image is for illustrative purposes only. Please refer to product description.
Stock may not be available at all store locations. Inventory quantites can change without notice.
How fast will your heart throb? Are you the calm, silent, cold type or the hot-blooded casanova type? Only The Heart Throb Kit knows for sure! This fun kit features a bright red heart which has the ability to flash at various rates for different persons. Place your fingers on the contacts and see how fast the heart will throb! Kit features IC circuitry and 36 jumbo red LEDs.
---
Operates from one 9V battery (not included). Size of board: 3.6" x 4". Complete with all parts, PC board and instructions. Skill Level 2.