STEREO AMPLIFIER
Part No: EBST-11
Manufacturer:
Stock No: 2015-BC2
SKU No: 204858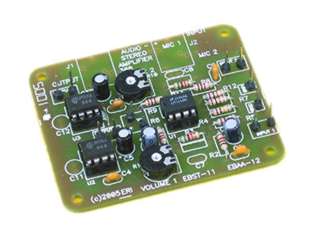 Image is for illustrative purposes only. Please refer to product description.
This kit teaches how stereo amplifiers take a small signal and "magnify" it to drive two small speakers or stereo headphones. It's based on two LM386 Low Voltage Power Amplifier and one LM1458 operational amplifier IC. This kit gives you a good quality Stereo Amplifier. You can use it as an intercom, a booster amp for portable CD players, or in your robot. You can also use it to add sound effects for plays or practical jokes.
---
Power requirement is 5 to 10v DC, size 2.25" x 2.75"
Limited Stock Available To purchase, Please contact our Sales Department
(+1-416-494-8999) or email shop@sayal.com