DC-DC CONVERTER 5V & 6-9VDC O/P 12VDC I/P
Part No: EBPS-5
Manufacturer:
Stock No: 2071-LE1
SKU No: 204861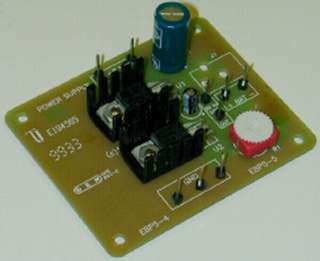 Image is for illustrative purposes only. Please refer to product description.
Stock may not be available at all store locations. Inventory quantites can change without notice.
This kit will allow you to operate your project with a +12vDC battery. Perfect automotive or robotics applications. This power supply allows up to 1.0 A load current with the heat sinking provided (battery used will determine actual allowable current). Current limiting is included to limit the peak output current to a safe value, and a thermal shutdown circuit prevents the regulator from overheating. Provides +5vDC fixed and +6 to +9.5vDC variable output, well-regulated and filtered.
---