STEREO POWER AMPLIFIER 44W
Part No: 80-050
Manufacturer: PHILMORE
Stock No: 2015-ED1
SKU No: 204914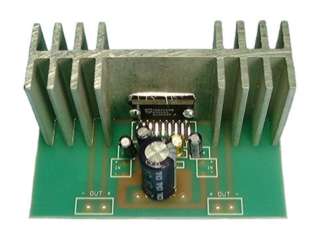 Image is for illustrative purposes only. Please refer to product description.
Stock may not be available at all store locations. Inventory quantites can change without notice.
The circuit is a gem The TDA1554 IC is the heart of this amplifier and rated at 22 Watts per channel into 4 Ohm Speakers (typical THD less than 0.1%!). It will also drive two 8 Ohm speakers, but at reduced power. This stereo amplfier was primarily designed for automotive applications, but can be used in the home if you have a good 5 to 7 Amp DC power supply.
---
Operates on 12 -18 Volts DC (typical automobile voltages with engine running) and can draw as much as five amps on the peaks.
Limited Stock Available To purchase, Please contact our Sales Department
(+1-416-494-8999) or email shop@sayal.com