WIRELESS RF/IR TRANSMITTER
Part No: RRW1AC
Manufacturer: Ramsey Electronics
Stock No: 2031-SG2
SKU No: 204948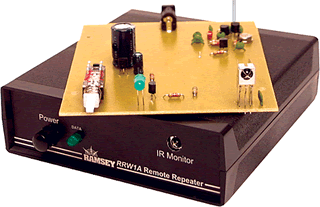 Image is for illustrative purposes only. Please refer to product description.
Stock may not be available at all store locations. Inventory quantites can change without notice.
Works with almost any remote control, does not need to be programmed! Transmitter converts your IR remote to RF. Receiver converts transmitted RF back to your IR signal! Have you ever been frustrated with the range of your remote controls? Tired of having to bounce your IR remote off ceilings and walls? Do you want to run your system from another room or floor? This is the answer to your prayers! Extend the range of your remote controls through walls, around corners, and even from outdoors. Unlike store bought units, error correction can be turned on for pulse width regeneration. The foolproof IR repeater!
---
Take advantage of wireless technology with this practical kit, which almost anyone can use. The RRW1A and RRW1B pair allow you to rebroadcast your AV Infrared remote controls wirelessly on 433 MHz up to 100 feet. Broadcast through walls, doors, floors, and ceilings. Use the pair to control the satellite receiver downstairs, and watch it upstairs! Be outside and control the tunes on your stereo system in the living room! Use multiple RRW1A's to broadcast from multiple locations in the house to the single RRW1B receiver near your equipment. Feed the control freak in all of us! Both units operate on 7-18V AC or DC. For continuous operation, use power adapter. Sleek matching cases measure 5"W x 1½"H x 5¼"D.
Limited Stock Available To purchase, Please contact our Sales Department
(+1-416-494-8999) or email shop@sayal.com