AUDIO AMPLIFIER
Part No: EBAA-1
Manufacturer:
Stock No: 2015-AC1
SKU No:205038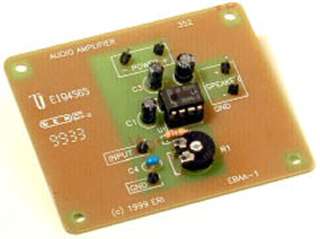 Image is for illustrative purposes only. Please refer to product description.
This kit teaches how amplifiers take a small signal and "magnify" it to drive a small speaker or headphone. It's based on the LM386 Low Voltage Power Amplifier. This chip is not a toy it's designed to be used in a variety of consumer electronics applications such as AM-FM radio amplifiers, portable tape or CD players, intercoms, TV sound systems, etc. Provides up to 1 watt of low-distortion audio power. Harmonic distortion is 0.2% voltage gain up to 46dB.
---
Power requirement is 5 to 10v DC, size 2.25" x 2.75"