RED ARROW - LIGHT EFFECTS
Part No: C6398
Manufacturer: CHANEY ELECTRONICS INC.
Stock No: 2032-QB3
SKU No: 205713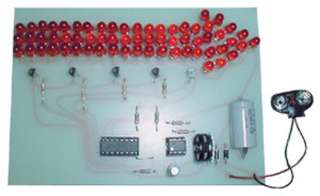 Image is for illustrative purposes only. Please refer to product description.
Stock may not be available at all store locations. Inventory quantites can change without notice.
Giant bars of LEDS light up sequentially as this arrow appears to move! Absolutely amazing visual effect using 63 LEDS and a variable speed control. Great as an attention getter, people director or use 2 kits as an auto directional signal (check local laws).
---
Kit comes with 9V battery snap but will also operate on any voltage between 5V and 12V AC or DC. Kit is available in one of three bright LED colors red, green or yellow. Optional AC adapter is available. Size of board: 5 1/2" x 4". Complete with all parts, PC board and instructions. Skill Level 2.
Limited Stock Available To purchase, Please contact our Sales Department
(+1-416-494-8999) or email shop@sayal.com