NO SMOKING SIGN - FLASHING LIGHT
Part No: C6768
Manufacturer: CHANEY ELECTRONICS INC USA.
Stock No: 2032-QB6
SKU No:205733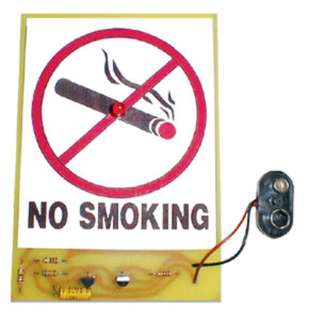 Designed with the student in mind, this new series of Chaney Kits features a custom designed full color label and a bright flashing red LED. Perfect for bedrooms, dorm rooms, teachers' desks, offices, or any other place that you would like to express yourself. These fun and easy-to-build kits make a perfect introduction to basic electronic circuit theory and transistor function.
---
Using 2 transistor circuitry powered by one 9V battery (not included), each kit provides hours of blinking amusement. Size of PC Board: 3 1/4" x 4 3/4". Complete with all parts, PC board, color label and instructions. Skill Level 1.