SUPER LED CHASER - BRIGHT RED
Part No: C6828
Manufacturer: CHANEY ELECTRONICS INC USA.
Stock No: 2032-NB3
SKU No:205740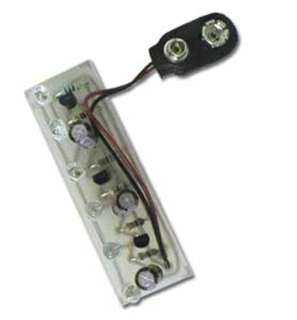 Image is for illustrative purposes only. Please refer to product description.
Here is an exciting visual display! Three groups of 2 LEDs light up sequentially to provide a stunning display. Kit uses 6 super bright clear case red LEDs and 3 transistors.
---
Operates from one 9V battery (not included) and comes in your choice of colors. Size of PC board is 2 7/8" x 15/16". Complete with all parts, PC board and instructions. Skill Level 2.