AUDIO AMPLIFIER WITH MICROPHONE PRE-AMP 5W
Part No: CK151
Manufacturer: CANAKIT
Stock No: 2015-GF2
SKU No: 20589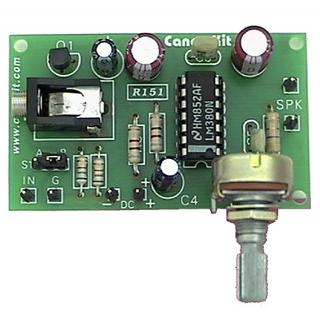 Image is for illustrative purposes only. Please refer to product description.
This simple amplifier is built around the LM380 Integrated Circuit. Includes a pre-amplifier circuit for a dynamic microphone that can be connected to the PCB mounted jack. It can deliver up to 2W of power into an 8-Ohm speaker.
---
Supply voltage: 10 to 18V DC / 300 mA Power consumption: < 10mA (stand-by mode) Input sensitivity: Aux – 150mV to 1V Mic – 2 to 5mV (dynamic) Output power: 2.5W Max. Output impedance: 4 or 8 Ohm. PC board dimensions: 2.57" x 1.52"