ROBOT VOICE IMITATOR
Part No: CK273
Manufacturer: CANA KIT
Stock No: 2035-SF1
SKU No:205951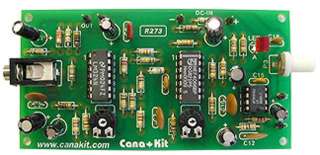 Image is for illustrative purposes only. Please refer to product description.
This robotic voice imitator could be the funnest kit you will ever build! It incorporates a built-in amplifier, microphone preamplifier, microphone jack and a voice processing circuit which adds a robotic sound effect to your voice.
---
Supply voltage: 12V DC / 200mA Power consumption: < 50mA Based on three integrated circuits Dynamic microphone input Incorporates built-in amplifier Output power: 1W Max.