COLOR ORGAN 3-CH W/LINE & MIC IN
Part No: CK185
Manufacturer: Circuit Test
Stock No: 2031-HF1
SKU No: 206253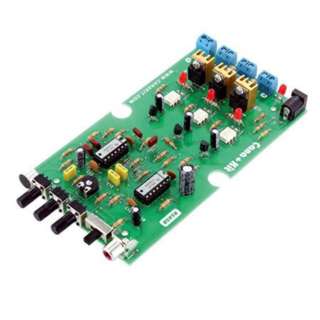 Image is for illustrative purposes only. Please refer to product description.
Stock may not be available at all store locations. Inventory quantites can change without notice.
| | | |
| --- | --- | --- |
| | Markham | 2 |
| | Mississauga | 1 |
| | Scarborough | 1 |
This is an excellent item for parties, dances, etc. The circuit is based on an Integrated Circuit which provides three sharp active filters for each channel. Three independent controls vary the amount of light for low, midrange and high frequencies. In addition, a built-in microphone is incorporated which allows the circuit to capture the ambient sound and to operate without requiring a connection to your stereo system. The circuit can handle up to 200W of lights per channel at 110V AC (or 400W at 220V AC).
---
Supply voltage: 18V AC C.T. / 100 mA Includes three 4A triacs and heat sinks Up to 200W / 110V AC (400W / 220V AC) of lights per channel Includes three 5A PC board mounted fuses PC board dimensions: 3.54" x 4.01"