MULTIMETER ANALOG CLAMP VOLT AMP RESISTANCE AND TEMP
Part No: MTP 500
Manufacturer: MTP Instruments Inc.
Stock No: MJY-500
SKU No: 207844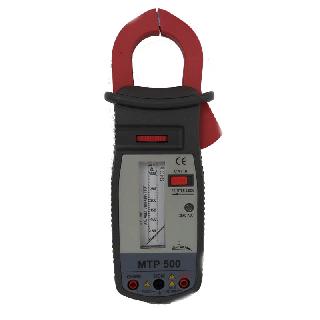 Image is for illustrative purposes only. Please refer to product description.
REG.
$79.95
Curb-Side Store Pickup can be selected at Checkout.
Make sure all products in your cart are at the preferred store.
We will contact you when your order is ready to pickup.
To purchase bulk quantities, Please contact our Sales Department (+1-416-494-8999) or email shop@sayal.com
Store Stock Check

| | | |
| --- | --- | --- |
| | Burlington | 3 |
| | Markham | 2 |
| | Mississauga | 1 |
�Overload protection: protected by 0.5A /250V(5.2x21) fuse and diode ranges. �Frequency: 50HZ / 60HZ �Core conductor diameter: Approx 34 mm max. �Dimensions: 214 mm (H) x85 mm (W) x43 mm (D) �Weight: approx 350g (battery included) �Power source: one 1.5V UM-3 �AA� battery or equivalent. �Accessories (included): Test leads, carrying case, Instruction manual, battery, two 0.5A /250V fuse, temperature test probe �Optional accessories: temperature test probe Ranges AC current: 6/15/60/150/600A Voltage: 150/300/750V DC voltage: 75V Resistance: 0-2kohm (mid-scale 50ohm) R X 1, 0-200Kohm (mid-scale 5Kohm)R X 1OO Temperature: -20�C~+150�C(operational Temperature probe) Accuracy AC current: �3% of full scale (6/15/150A range) �5% of full scale (600A range) Voltage: �3% of full scale DC Voltage: �3% of full scale Resistance: �3% of full scale length Temperature: within �3% of arc
---
AC current 6 to 600 A (50/60 Hz) AC Voltage 150 to 750 V DC voltage 75V Resistance 0 to 200 K Temperature: -20�C~+150�C
RELATED PRODUCTS
8 Product(s) found