LIGHT CHASER 10-CH 4-PROGRAM
Part No: CK156
Manufacturer: CANA KIT
Stock No: 2032-NG1
SKU No:213590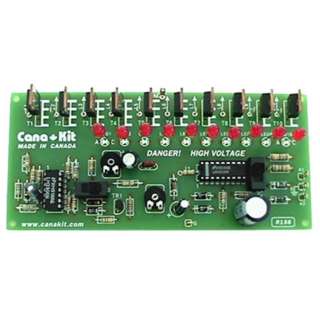 Image is for illustrative purposes only. Please refer to product description.
This professional light chaser will operate 10-channels with up to 150W of lights per channel at 110V AC (or 300W at 220V AC). It includes 4 different programs and incorporates 10 LEDs indicating the state of each channel.
---
Supply voltage: 18V AC C.T. (2 x 9V AC) / 300 mA Includes ten 4A triacs Up to 150W / 110V AC (300W / 220V AC) of lights per channel 4 different programs 10-LED channel indicator PC board dimensions: 5.81" x 2.67"