CW TRANSMITTER KIT FOR 30 METERS
Part No: QRP30C
Manufacturer: Ramsey Electronics
Stock No: 2025-EL2
SKU No:217623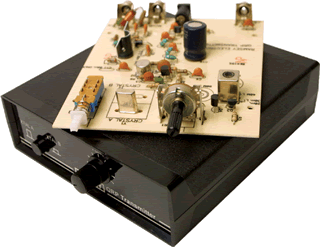 Image is for illustrative purposes only. Please refer to product description.
These nifty little CW transmitters are practical and economical take-along rigs for trips, camping, teaching or just amazing yourself with just what a watt will do! With exceptional manual of over 20 pages, the detailed step-by-step instructions guide you to a perfectly operating finished transmitter. The rigs use a standard crystal that is connected into a VCXO circuit - which means that you can tune around the crystal's frequency by up to 20 KHz - thus giving you stable crystal control while still being able to tune around! A front panel switch lets you choose between two crystals, we include one, you can add another of your choice. A built-in T-R switch allows break-in operation. Of course, these transmitters interface perfectly with our QRP Mini-rig receivers and our CMOS CW keyer! And for the real ham, there's plenty of room inside the included case for your own circuit modifications and experiments, these little rigs are often the heart of many QRP operator's stations. Modify "till-the-cows-come-home," or just use 'em as they are - these little rigs pack a lot of performance into an economical package.
---
Runs on 12 VDC at 200 mA or the optional AC power supply. Not included.
RELATED PRODUCTS
4 Product(s) found