DEOXIT FADERLUBE LUBRICANT SPRAY F5 14G
Part No: FN5MS-15
Manufacturer: CAIG LABORATORIES INC.
Stock No: QPP-9922
SKU No:221947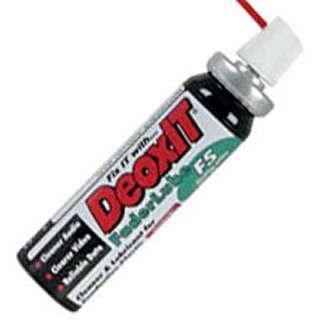 Image is for illustrative purposes only. Please refer to product description.
DeoxIT Fader is a precision lubricant for moving contact surfaces. Ideal for use with faders, switches, potentiometers, and other mechanisms with sliding surfaces. Maintains optimum signal quality and reduces wear and abrasion. It replenishes lubrication lost on surfaces that have been cleaned with solvents or other cleaning solutions. Formulated for conductive plastics and carbon based controls. Petroleum naphtha carrier solvent used to flush away dust, dirt, and contamination.
NOTE: Not for use on metal contacts - use standard DeoxIT for metal.
---
RELATED PRODUCTS
7 Product(s) found