CHEMISTRY 60-AGE 10+ 60 FUN ACTIVITIES
Part No: EDU-7075
Manufacturer: TREE OF KNOWLEDGE H.K.
Stock No: 3551-AL1
SKU No: 222269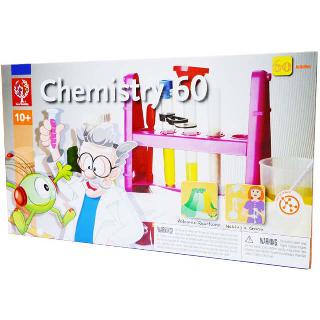 Image is for illustrative purposes only. Please refer to product description.
Curb-Side Store Pickup can be selected at Checkout.
Make sure all products in your cart are at the preferred store.
We will contact you when your order is ready to pickup.
To purchase bulk quantities, Please contact our Sales Department (+1-416-494-8999) or email shop@sayal.com
Store Stock Check

| | | |
| --- | --- | --- |
| | Burlington | 2 |
| | Cambridge | 2 |
| | Markham | 1 |
| | Mississauga | 2 |
| | Scarborough | 2 |
| | Vaughan | 1 |
This Chem 60 chemistry set includes 60 safe and fun activities, allowing your child to learn and play at the same time. The topics covered in the kit deal with chemical reactions, acids and bases, chromatography, crystal growing, surface tension, solutions and colloids, expansion of gases, magnetism, optics, growing plants and more. Simple experiments are performed using the contents of the kit and common household items. Children often help out in the home, especially in the kitchen. This kit provides the opportunity for children to discover how scientific concepts are used at home daily. The activities with these simple scientific concepts enable your child to increase his scientific knowledge and to further arouse his innate curiosity. We are certain that learning about science in the home will be a fun and rewarding experience for the whole family. Ages 10 and up.
---