EXPERIMENTER KIT 50-IN-ONE
Part No: EP-50
Manufacturer: ELENCO ELECTRONICS
Stock No: 2011-AL1A
SKU No: 227732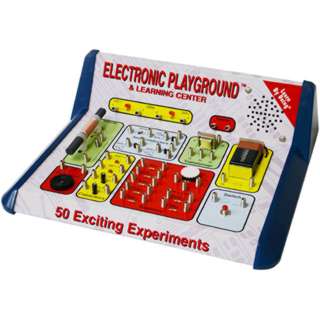 Image is for illustrative purposes only. Please refer to product description.
Build 50 different projects without tools or soldering.

Excellent for beginners and hobbyists. Learn about voltage current resistors capacitors and much more. Identify electronic parts and read schematic diagrams. No soldering required. Uses spring hook-up method.
Build these exciting circuits:
Finger touch lamp
Magnetic bridge
Voltmeter
Morse code
Alarm
Electronic noisemaker
Electronic kazoo
Electronic keyboard
AM Transistor radio
Radio announcer
Metal detector
Learn about:
Voltage
Current
Resistors
Capacitors
Transistors
Diodes
Transformers
Speakers
Antennas
---
Dimensions (L x W x H Inches): 12.5 x 10.25 x 3.75

Requires one 9V battery.