SOLAR CELL 3V 250MA WITH MOTOR KIT 2.5X4.5IN
Part No: PTSP5-01-M
Manufacturer:
Stock No: 1511-PE3
SKU No:232357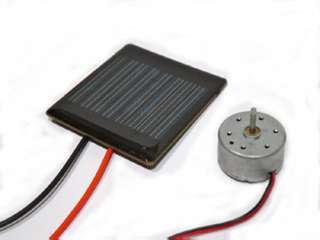 Image is for illustrative purposes only. Please refer to product description.
Mini solar panel with motor for school projects, experimenting, hobbies.

Panel measures 2.5" X 4.5". Output 3 Volts, approx. 250mA.

NOTE: Can be used indoors using a incandescent 100 - 150 watt bulb, from a distance of about 6-12". Do not keep in front of the bulb for extended period as the plastic will start to melt!
---
RELATED PRODUCTS
1 Product(s) found