ZODIAC STONE BOX-PISCES
Part No: PK05-PISCES
Manufacturer: GREEN EARTH STORES LTD.
Stock No: 7041-WA4
SKU No: 233431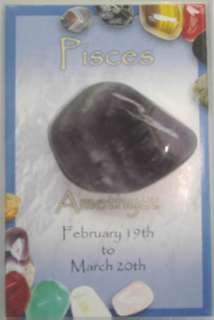 Image is for illustrative purposes only. Please refer to product description.
Stock may not be available at all store locations. Inventory quantites can change without notice.
These zodiac stones are a perfect gift for yourself or a friend. Displayed in a clear box, each stone includes a description of the traits of those born under a specific sign, as well as a description of the characteristics of the sign's gemstone. Sold individually. Slight size and colour variations may occur between similar stones.
---
Limited Stock Available To purchase, Please contact our Sales Department
(+1-416-494-8999) or email shop@sayal.com