UPS 350VA 180W 6 SURGE O/LET 6FT PHONE/DATA PROTECT 12MIN BACKUP
Part No: ECO350UPS
Manufacturer: TRIPP-LITE
Stock No: PNE-2841
SKU No: 235017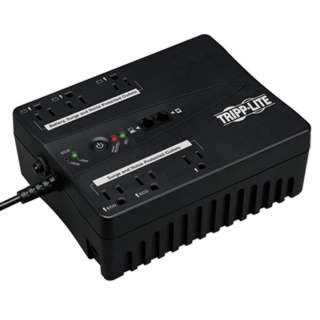 Image is for illustrative purposes only. Please refer to product description.
Stock may not be available at all store locations. Inventory quantites can change without notice.
| | | |
| --- | --- | --- |
| | Burlington | 1 |
| | Cambridge | 2 |
| | Markham | 1 |
| | Scarborough | 2 |
| | Vaughan | 1 |
ECO350UPS standby green UPS offers complete protection from blackouts, brownouts and transient surges.
Built-in Eco outlets automatically power off unnecessary computer accessories like printers, scanners and speakers when computer is not in use.
Full load efficiency rating of 99% saves energy and heat output by limiting UPS power consumption to less than 2 watts with only 4 BTU/hr. of heat output.
Eco-friendly design meets strict RoHS (Restriction of Hazardous Substances) environmental standards.
350VA/180 watt UPS provides battery-derived AC output during brownouts and power failures to support entry-level desktop computer with 15 inch LCD monitor up to 12 minutes.
Ultra compact UPS supports a variety of placement options for desktop or wall-mount use.
Includes 3 UPS supported outlets for computer, monitor and one vital system peripheral requiring uninterrupted power.
Includes 3 Surge-only outlets for accessories not requiring battery support.
Two of the Surge-only outlets are designated Eco outlets that can be configured to automatically power-off when the computer is not in use.
USB port enables UPS configuration options and unattended system shutdown without data loss in the case of extended power failure.
PowerAlert UPS monitoring software is available for free download from www.tripplite.com.
Single line RJ11 phone suppression jacks protect modem, fax machine, cordless phone or other accessories from surges on dialup/DSL phone connections.
USB cable included.
Space-saving right angle input plug.
---