METER ANALOG BENCHTOP 300UA 300-0-300UA DC AMMETER
Part No: EM-409
Manufacturer:
Stock No: 2551-BG9
SKU No:235703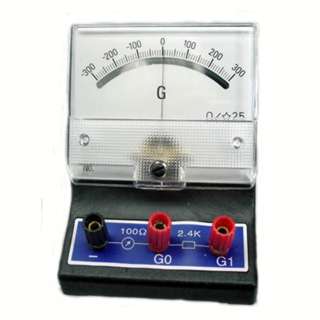 Image is for illustrative purposes only. Please refer to product description.
300-0-300 micro-ampere DC Galvanometer with anti-parallax mirrored scale.

Features a center "0" millivolt meter in a angled bench-top plastic case. Designed for educational & training purposes. Large 3-3/4in. wide analog meter for easy viewing. Anti-parallax mirrored scale. Red & Black Binding posts for Banana plug or wire.
MFG: EDM
P/N: EM-409
Input: +-300 uA DC
Input Impedance: unknown?

W: 4-3/4 inches
H: 4 inches
D: 5-1/4 inches
WT: 0.5 pound
---
RELATED PRODUCTS
10 Product(s) found