ALARM KIT-BUILD ELECTRONIC SCIENCE ALARM NEED 2XAA BATTERY
Part No: 38823N
Manufacturer:
Stock No: 2045-ZG1
SKU No: 237248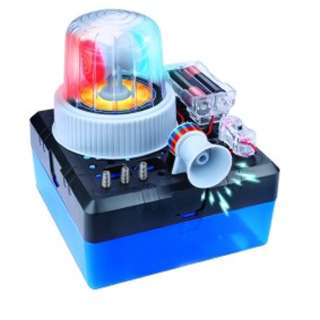 Image is for illustrative purposes only. Please refer to product description.
Stock may not be available at all store locations. Inventory quantites can change without notice.
kids can learn the basics behind how the electronic circuits of an alarm system operate. The clock comes with easy-to-follow instructions on how and where to attach the different wires and place and attach its different components. And once complete you'll have assembled your own alarm-sounding siren with blinking LED lights. Disconnect different wires to turn off the LED lights or the motor's spinning feature of the alarm's siren. Further instructions are provided about the basic connections in the instructions guide. Two AA batteries are required but not included.
---
Limited Stock Available To purchase, Please contact our Sales Department
(+1-416-494-8999) or email shop@sayal.com