ELECTRIC FAN EXPERIMENT KIT
Part No: 659158
Manufacturer: THAMES AND KOSMOS
Stock No: 2011-AG3
SKU No: 237472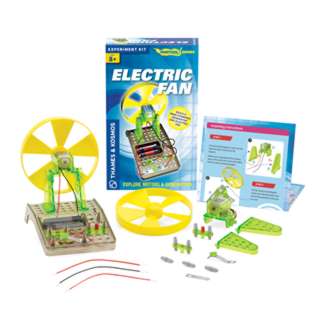 Image is for illustrative purposes only. Please refer to product description.
Stock may not be available at all store locations. Inventory quantites can change without notice.
Build a working electric fan using a circuit that consists of a fan blade rotor, electric motor, LED, resistor, switch, and battery holder. Learn how motors work, the role each electronic component plays in the circuit, and how fan blades push air to make wind.
---
Limited Stock Available To purchase, Please contact our Sales Department
(+1-416-494-8999) or email shop@sayal.com