ELECTRICITY MAGNETISM GRADES 3-5 A SCHOOL SPECIALTY LEARNING KIT
Part No: 1173203
Manufacturer:
Stock No: 3592-NQ1
SKU No: 237828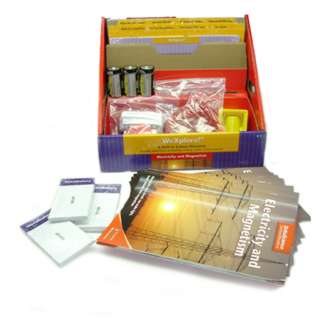 Image is for illustrative purposes only. Please refer to product description.
Stock may not be available at all store locations. Inventory quantites can change without notice.
WeXplore!™ Cross-Curricular Kits connect science discovery to life for students in Grades 3-5. Developed by School Specialty, these self-contained, content-rich kits explore science themes through cross-curricular activities that integrate technology simply and align with national standards in math, science, language and art. WeXplore! kits address differentiated classroom needs and learning styles with leveled Delta Science Content Readers™ and mutli-sensory activities including vocabulary cards, photo writing prompts, experiment manipulatives and functional math activities. Students are challenged to develop 21st Century problem solving and technology skills and can easily self-monitor using the WeXplore! concept map. Each WeXplore! kit also includes a CD with lesson plans, a PowerPoint discussion guide.
---
Limited Stock Available To purchase, Please contact our Sales Department
(+1-416-494-8999) or email shop@sayal.com