BLAST-OFF ROCKET RACER
Part No: 08591
Manufacturer: SMARTLAB
Stock No: 3551-AH2A
SKU No: 238637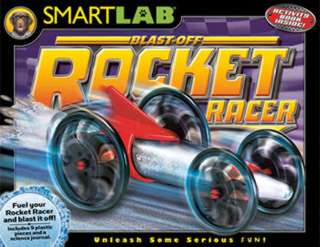 Image is for illustrative purposes only. Please refer to product description.
Stock may not be available at all store locations. Inventory quantites can change without notice.
Power up your Rocket Racer with the classic combination of baking soda and vinegar and let it go! Includes a build-your-own mini rocket racer, featuring sleek aerodynamic design and large wheels for maneuverability. The racer body is see-through for a closer look at the chemical reaction in action. It also comes with a stomp-pad launcher so kids control the moment of blast off.
---
Package: 11"w x 8.5"h x 2"d Book: 16 pages, full color. Batteries: Not required!
Limited Stock Available To purchase, Please contact our Sales Department
(+1-416-494-8999) or email shop@sayal.com