ENGINO PLAY TO INVENT 3 MODELS NEED 2AAA BATTERY
Part No: EB70
Manufacturer: ENGINO.NET LTD.
Stock No: 5114-JM1
SKU No:242425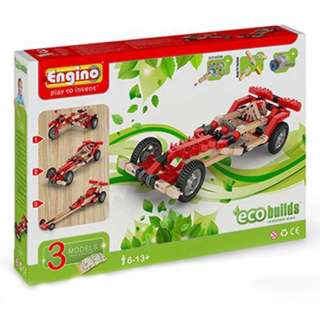 Image is for illustrative purposes only. Please refer to product description.
ENGINO EB70 Eco Builds Motorized Racers The first innovation of ENGINO® was the wood connectors, arange of plastic components which allowed wooden dowels of3/8" x 3/8" to connect together without any glue or fasteners.This hybrid system forms the basis of the new Ecobuildsseries which includes 4 starter sets and 2 advanced sets. Thebiggest set also includes the geared ENGINO® motor foranimated models. The use of wood reduces significantly theplastic parts and leads to more efficient recycling, making thisproduct an environmentally friendly solution.
---