Radio Shack USB-to-PC Scanner Programming Cable

Use this cable from Radio Shack to up/download between your USB-interfaced PC and your scanner. It gives you easy programming options and includes an adapter to program both mono jack (PC/IF) and stereo jack scanners.

These scanners are compatible: 20-515, 20-525, 20-526, 20-527, 20-106,20-164, 20-404, 20-427, 20-428, 20-496, 20-197,20-163, 20-405, 20-522, 20-523, 20-196, 20-466 along with most new Radio Shack models.

These scanners use the cable without the adapter: 20-501, 20-524, 20-426 and many Uniden brand scanners. This interface cable is not compatible with 20-315, 20-424 or 20-432 scanners.
---
NOTE: (MAKER HACKABLE ALERT!) This cable contains a FTDI Chip, most like, Part Number: TTL-232R-3V3-AJ Cable with audio jack connector with +3.3V based TX, and RX signaling. Check out the FTDIchip.com web site.. You'll find drivers and specs, if needed for older OS. Windows 10 (built-in driver) Device Manager identifies the cable as a configurable USB Serial Port (default: COM3). Spec notes, conforms to USB 2.0 standards with automatic fall-back to USB 1.1 when used on earlier USB ports. And has nice, blinky green, LED.
---
Case Opened showing the FTDI FT232RQ PCB!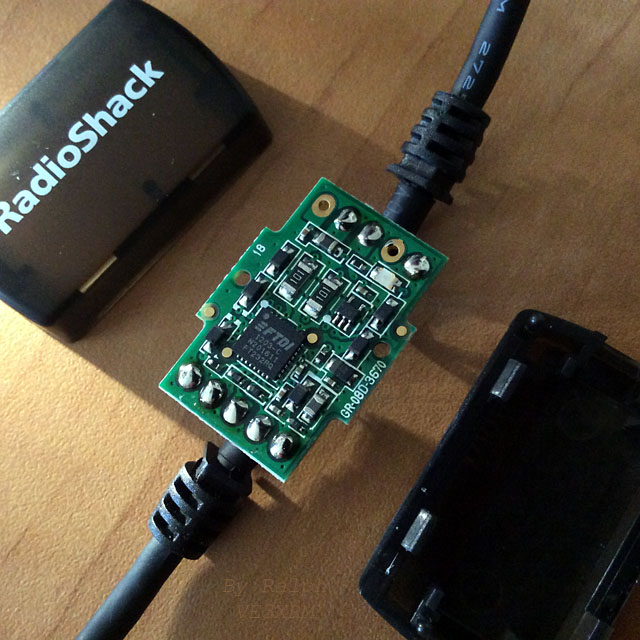 ---