ELECTRICAL BOX 10X8X4IN TYPE 3R LIFT-OFF COVER W/KNOCKOUTS
Part No: C3R1084SC
Manufacturer: HAMMOND MANUFACTURING LTD.
Stock No: PQR-1887
SKU No: 249229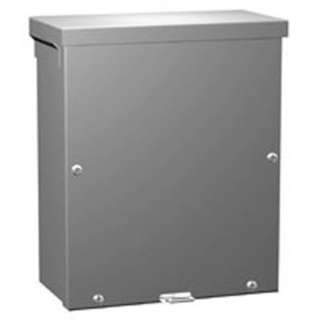 Image is for illustrative purposes only. Please refer to product description.
Stock may not be available at all store locations. Inventory quantites can change without notice.
Application Designed for use as a wiring/junction box. Provides protection against rain, sleet, snow and dripping water. Standards UL-50 Type 3R CSA Type 3R Complies with: NEMA Type 3R IEC 60529, IP24 Construction Formed and spot welded from 16 or 14 gauge galvanized steel. Drip-shield top and seam-free sides, front and back. Slip-on removable cover fastened with plated steel screws. Door handles on body type C enclosures. Embossed mounting holes on back of enclosure. Easily removed knockouts on bottom of enclosure. Padlocking hasp. No Gasket. Finish Enclosure and cover are finished in ANSI 61 gray powder coating.
---
Limited Stock Available To purchase, Please contact our Sales Department
(+1-416-494-8999) or email shop@sayal.com