KYLO REN-STAR WARS 130PCS/SET
Part No: 41603
Manufacturer: Lego
Stock No: 5279-HE4
SKU No:250133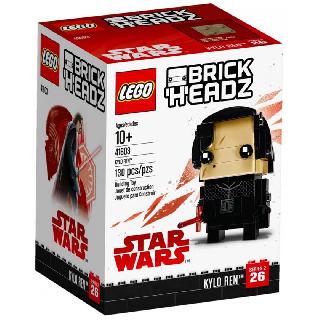 Image is for illustrative purposes only. Please refer to product description.
This LEGO BrickHeadz construction character featuring Kylo Ren™ is fun to build using LEGO bricks that recreate all of his iconic details from the blockbuster Star Wars: The Last Jedi movie, including decorated torso and belt. He also has a detachable Lightsaber and stands on a build-able collector's baseplate with BrickHeadz icon for easy display in your home, office or any galaxy you choose. Each LEGO® BrickHeadz construction character comes with its own buildable collector's baseplate featuring the BrickHeadz icon.
---
Stands over 2" (7cm) tall without baseplate. Baseplate measures over 1" (4cm) square and under 1" (1cm) high.