LED BULB FESTOON 12V WHITE 6LED 5050
Part No: 01078
Manufacturer:
Stock No: BJKN-5727-2
SKU No: 253862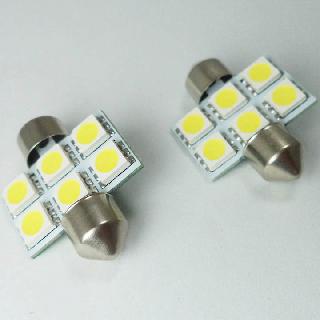 Image is for illustrative purposes only. Please refer to product description.
Stock may not be available at all store locations. Inventory quantites can change without notice.
| | | |
| --- | --- | --- |
| | Barrie | 5 |
| | Burlington | 5 |
| | Cambridge | 3 |
| | Markham | 4 |
| | Mississauga | 7 |
| | Scarborough | 3 |
| | Vaughan | 2 |
LED replacement bulbs can fit numerous vehicle applications, such as map lights, dome lights, trunk lights, and footwell lights. This LED festoon bulb replaces a variety of traditional bulbs. The 31mm bulb has 6 LEDs (5050 SMD) on a rectangular PCB (printed circuit board). The LEDs are mounted to one side of the board for direct illumination with no wasted light. A festoon base allows for easy plug-and-play installation.
The Festoon 31-35mm bulb family will fit in the following alternative fitments.
Ultra bright and durable /SMD bulbs.
Easy installation.
Commonly used for interior lights to replace old festoon.
No delay in lighting, much safer, prevent the rear-end collision danger.
At night,it is easy to attract more attention and make the drive safer Bright white SMD bulbs.
It is always a great investment to have a power-saving light bulb for your car. This energy-saving light bulb features high brightness, low power consumption, long service life, anti-dust and anti-collision.
It is safe and reliable, a perfect eco-solution. Meanwhile, it is easy to install and operate. Save money in the long run and facilitate your life from now on.
If the does not light up, simply flip it 180 degrees (reverse the polarity).
Cross Reference:31mm -35mm : 3021, 3022, 3175, 6428, 6430, 6461, DE3021, DE3022, DE3175
Note:Please flip the bulb horizontally if it does not light up to match the + and - polarity.
Please note: These light bulbs are slightly wider than original stock bulbs, please make sure your car housing having enough room to fit them in. Please refer to Product Features for size reference.
Please note: Some newer models of european cars or cars with canbus system may need to purchase the Canbus Error Free bulbs to bypass the on dash error message. Please research before making purchase.
•
Package Content: 2pc x Festoon Light; Bulb Type: Festoon; Applications1: Dome Map Door Interior Light
Voltage: DC 12V; Shell Color: Silver Tone,Yellow; Dimension: 31 x 16 x 8mm(L*W*T)
Cross Reference: 31mm : DE3175 DE3022 DE3021 3175 3022 3021; Light Color: White
---