UNDERWATER ROBOT-CREATOR 207PCS/KIT
Part No: 31090
Manufacturer: Lego
Stock No: 5225-KH4
SKU No: 256634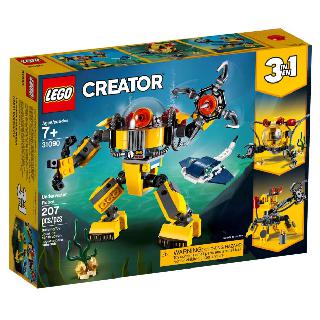 Image is for illustrative purposes only. Please refer to product description.
Curb-Side Store Pickup can be selected at Checkout.
Make sure all products in your cart are at the preferred store.
We will contact you when your order is ready to pickup.
To purchase bulk quantities, Please contact our Sales Department (+1-416-494-8999) or email shop@sayal.com
Store Stock Check

| | | |
| --- | --- | --- |
| | Markham | 2 |
| | Scarborough | 1 |
Explore the depths of the ocean for sea treasures with the LEGO Creator 3in1 31090 Underwater Robot, featuring highly posable joints, large transparent domed helmet, red robot eye, ballast tanks and huge feet for walking on the seabed Remove the robot eye to transform the dome into a cockpit control center The Underwater Robot toy also has a claw and drill at the end of its left arm and a grabber on its right This set also includes a buildable manta ray and a small seabed build with a sea plant and golden nugget elements With LEGO Creator 3in1 sets you get 3 different build and play experiences Build the Underwater Robot and then rebuild it to create a toy Submarine or an Underwater Crane treasure hunt center for more deep-sea action and adventure


Enjoy 3 building opportunities with this LEGO Creator 3in1 set. Build the Underwater Robot and manta ray, a toy Submarine with a manipulator arm, or an Underwater Crane treasure hunt center.
The Underwater Robot comes with a yellow, gray, black and red color scheme.
Open the Robot's helmet and remove the robot eye to reveal a control console.
Move the Robot's head, arms and legs to create cool action poses.
---