MULTIMETER DIGITAL CLAMP TRUERMS AC/DC 1000V 2500A WITH IFLEX
Part No: FLUKE 376FC
Manufacturer: FLUKE
Stock No: MJY-FL376FC
SKU No: 260769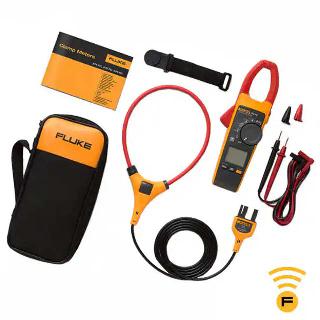 Image is for illustrative purposes only. Please refer to product description.
Fluke 376FC True RMS AC/DC Clamp Meter with iFlex®
Fluke 376 FC True-RMS Clamp Meter with iFlex
The Fluke 376 FC True-rms Clamp Meter with iFlex is the most advanced troubleshooting tool for industrial and commercial electricians. The 376 is part of the Fluke Connect family of wireless test tools that enable you to log, trend and monitor measurements while remaining safely away from the arc flash zone through Bluetooth connectivity.
Find the cause of difficult problems
The 376 FC clamp meter uses an integrated low-pass filter for accurate measurements of non-linear signals, such as adjustable speed drives, electronic ballasts and other non-linear loads. The clamp also uses proprietary inrush measurement technology to filter out noise and capture motor starting current exactly as the circuit protection sees it.

Measure:

Voltage to 1000 V AC or DC
Resistance to 60 kΩ with continuity detection
Min, max, average, and inrush recording to capture variations automatically
500 mV DC measurement range to interface with other accessories
1000 μF capacitance measurement
Work safely and conveniently
The 376 FC clamp carries a CAT III 1000 V, CAT IV 600 V safety rating, designed to offer you the highest possible protection in a test tool.

The included 18-inch or 36-inch iFlex flexible current probe provides easier access to large conductors in tight spaces. The flexible probe:

Expands the measurement range to 2500 A AC
Allows frequency measurement to 500 Hz with body jaw and iFlex



In The Box


---
*Shipping charges will apply to this item
*Available for Canadian customers only